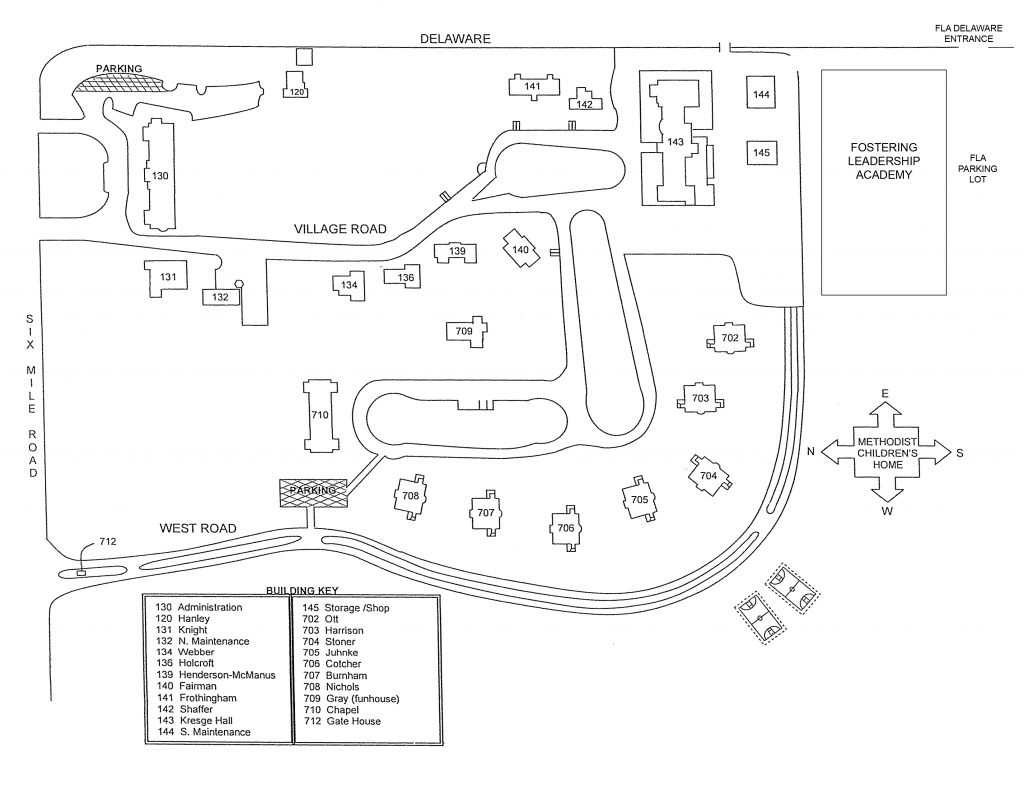 Get In Touch
The Fostering Leadership Academy education center is located on the 80-acre main campus of Methodist Children's Home Society, its parent company.
About Methodist Children's Home Society
From its very inception, since the founding of Methodist Children's Home Society in 1917, our focus has been rooted in caring for Michigan's most vulnerable children. In its first century through to present day, and well into the future, MCHS continues to focus on innovative ways to grow our programming, serving more children, families and communities.
Our campus in Redford, home to MCHS since 1927, is indisputably beautiful. Even in the cold, dreary winter there's something peaceful and idyllic about our campus, which has 22 buildings and 23 different types of trees, covering 80 spacious acres. Each spring, with the flowers blossoming and our trees returning back to life, it gets even better. Whether it's hearing the birds chirp or watching the deer dart across our campus or listening to the water rush over the rocks in the River, our campus offers a sanctuary, a safe haven for so many of our children.
This serene campus is home to 60 boys, ages 5 through 18, in our residential treatment program. At MCHS, our children – many for the first time in their young lives – find safety, love and belonging thanks to our amazing staff who care for them like their own. Our residential program is infused with clinical therapy, helping each child to reimagine a future and regain the hope they once lost due to unspeakable trauma, abuse and neglect. For these children, broken and defeated by a life that wasn't fair to them, MCHS is here.
Young adults aging out of the foster care system are more often than not predestined for less than desired life outcomes due to the hardships of their past. This includes incarceration, substance abuse and homelessness. By the age of 16, most teenage boys know the likelihood of being adopted is slim, but what's next? Our Independent Living Plus program equips young adults in foster care, ages 16 through 19, with the life skills, knowledge and workforce development needed to create positive, successful futures. For these teens navigating their way to independence and adulthood, MCHS is here.
Off campus, MCHS continues to care for children in the foster care system through our foster care and adoption programs. Our foster families are the heroes we call on to open up their hearts and homes to children in need of a safe and loving home as their parents work on rebuilding their own lives. For the children don't have the option of reunification, our adoptive families are there. They give our children the greatest gift of all –  a forever home. For these children, no matter what they've endured and continue to work through, MCHS is here.
And now, located in neighborhoods of Detroit, MCHS is excited to grow its community programs to include child abuse prevention, a public infant resource center, assistance for young and at-risk mothers, senior services and workforce development. 2019 was a milestone year for MCHS as we opened our first satellite office in Detroit and acquired Community Social Services of Wayne County, a historic Detroit-based human service agency. For our community and our neighbors – the children turned adults who've struggled silently through their own unaddressed traumas – MCHS is here.
Throughout our history, for the children in 1917 who lost their families to the communities today who struggle through years of unresolved trauma, MCHS is here and will continue to be here. Our vision of creating brighter, safer futures for every child and family continues to be our driving force. Through growth, innovation and community partnership, MCHS will always be here for Michigan's most vulnerable population.